High performance, ultra HD ISP
VeriSilicon's Vivante Image Signal Processor (ISP) IP is the industry's leading full-featured ISP IP, providing professional high-quality pixel processing functions for mobile devices, video conferencing, video surveillance and automotive applications. The ISP RTL design is highly code-efficient and enables high-performance real-time image processing, showing less area, lower power, and higher throughput as well as lower memory footprint. VeriSilicon ISP has been market-proven many times to provide customers with low-risk, high-quality and high-efficiency solutions from ISP IP to SoC chips.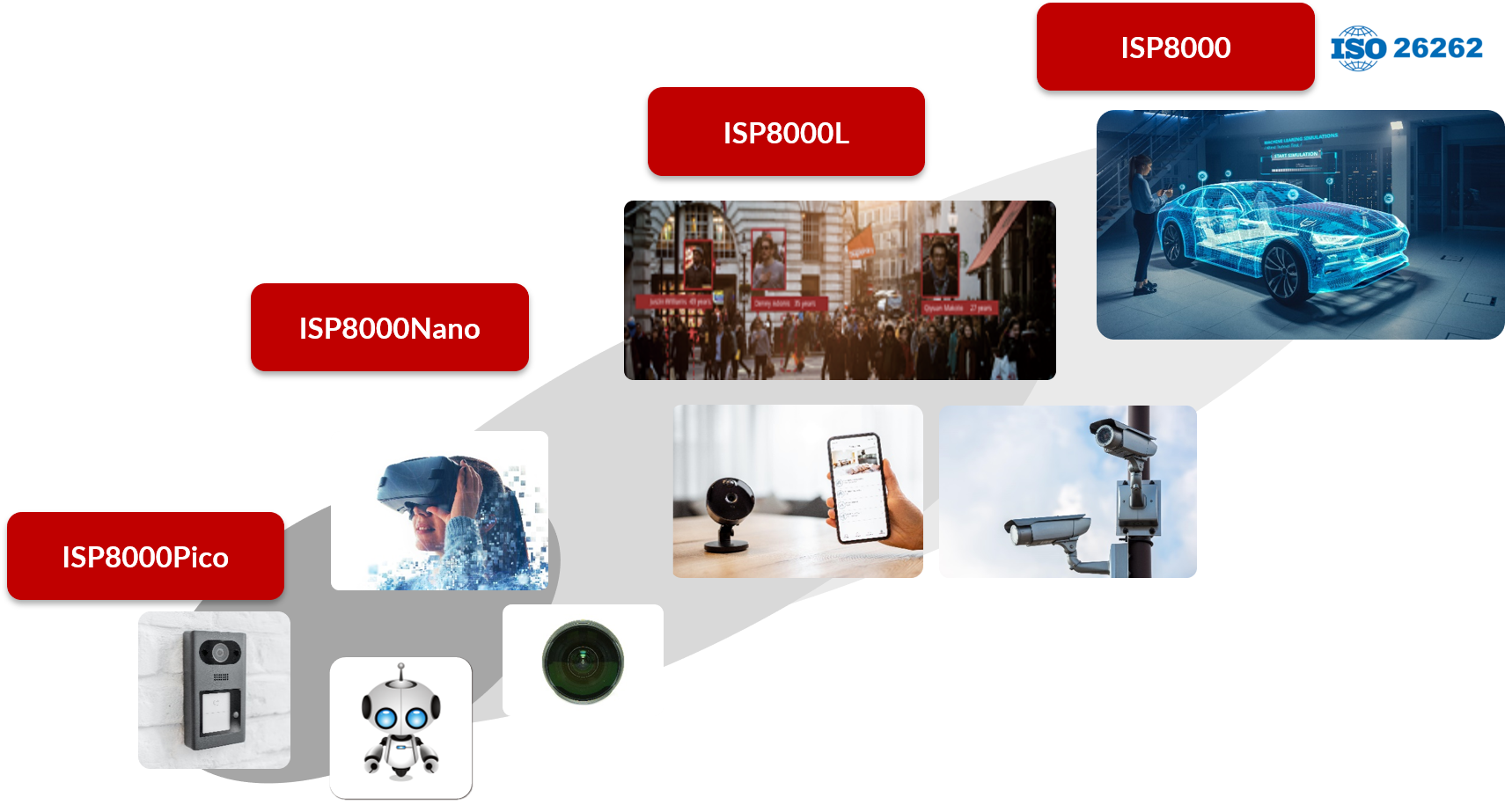 ISP Features
High dynamic range (HDR)


RAW Domain 3D noise reduction (3DNR)


Wide dynamic range (WDR) and Local tone mapping (LTM)


Nonlocal Mean based noise reduction (NLM)


Auto exposure (AE), Auto white balancing (AWB), Autofocus (AF), Histogram


Lens shade correction


Demosaicing and Filtering

Sharpness / blurring control


Video image stabilization (cropping and GME estimation & filtering)

Chromatic Aberration Correction (CAC, removes color fringes)


Black level compensation (BLC)


Defective pixel detection and correction


Lens distortion correction (LDC, Dewarp)


Video pyramid scaling (VSE, for AI and multiple streams)

ISP Advantages
Ease of integration (embedded rotation, color conversion & AXI interface)


Very Low CPU load, typical below 1 MIPS per frame/second


Ultra short capture delay (hard wired, separate preview & proc. path)

RAW data can be stored in memory for pre/post processing


Resolution scalable architecture (1MP, 3MP, 5MP, 8MP, 12MP, 18MP, 24MP, 36MP and up to 64MP)





Support for all CMOS Sensors without SoC re-design


Silicon proven design


High throughput rate up to 450 mega pixel/second (e.g. 24MP at 15fps)

Integration of 3rd party IP available (Face Detection)


FPGA platform available for pre-silicon software development








All the help you need
VeriSilicon operates globally and we are happy to meet you at any time to discuss your demand for ISP IP.
Please feel free to contact us and submit your request online, or reach out to your nearest VeriSilicon sales office for making an appointment, or meet us at the next industry event.
Vivante ISP8000

The ISP8000 series is one of the most efficient RTL based implementations for high performance real-time image processing.  It features low gate count per chip area, low power consumption, as well as higher throughput while at the same time lower memory requirements. 

Vivante ISP8000Pico

The ISP8000Pico offers smaller silicon footprint with ultra-low power image processing as well as pixel processing and conversion to produce output data in low power applications.

Vivante ISP8200

The ISP8200 Series ISP is designed for products requiring the processing of multiple camera streams with higher performance, particularly in automotive, AR/VR and industrial markets.

Vivante DeWarp IP

VeriSilicon's Vivante DeWarp Processor provides high-performance DeWarp processing for the correction of the distortion that is introduced in images produced by fisheye and wide-angle lenses.