Highly scalable, programmable computer vision and artificial intelligence processor
VeriSilicon's Neural Network Processor (NPU) IP is a highly scalable, programmable computer vision and artificial intelligence processor that supports AI operations upgrades for endpoints, edge devices, and cloud devices. Designed to meet a variety of chip sizes and power budgets, the Vivante NPU IP is a cost-effective, high-quality neural network acceleration engine solution.


VeriSilicon's Vivante NPU IP can be combined with other processor IPs from VeriSilicon, thus to support the development of artificial intelligence (AI) in consumer electronics, automotive electronics, computer and peripheral, industrial, data processing, and Internet of Things applications. For example, ISP IP employs the target detection and recognition function of NPU IP to locate the target area; the ISP IP accurately exposes and focuses the target area to obtain a clearer image of the target area. In addition, NPU IP is capable of also performing dark light enhancement and resolution improvement on the image output by ISP IP to further optimize image quality.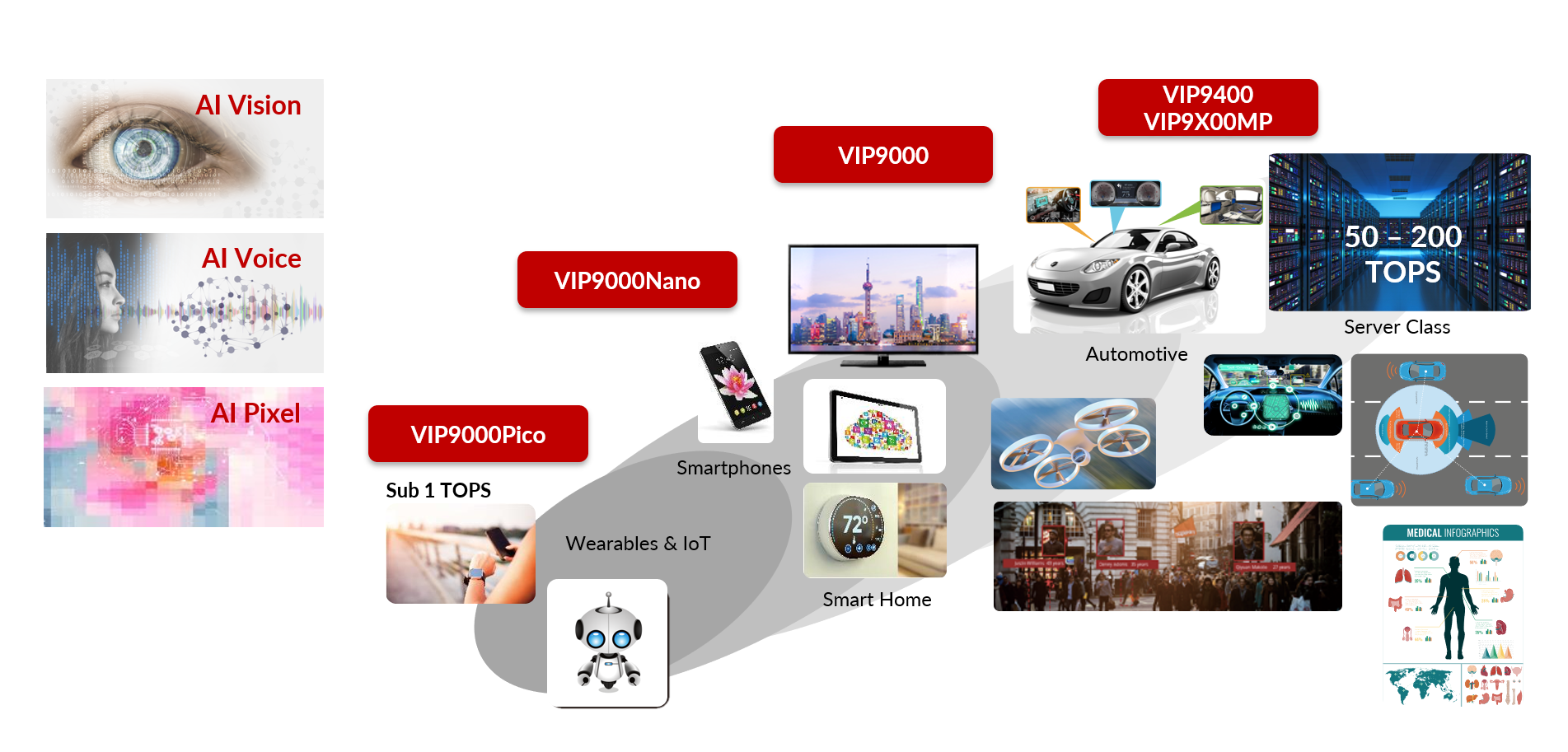 API SUPPORT
OpenCL 1.2/3.0
OpenVX 1.3
OpenCV 3.1
ANDROID NN HAL
TIM-VX
AI FRAMEWORK SUPPORT
Tensorflow
Tensorflow-Lite
Caffe
PyTorch
ONNX
TVM
IREE/MLIR
© OpenVX and Vulkan are trademarks/registered trademarks of the Khronos Group Inc.
All the help you need
VeriSilicon operates globally and we are happy to meet you at any time to discuss your demand for NPU IP.
Please feel free to contact us and submit your request online, or reach out to your nearest VeriSilicon sales office for making an appointment, or meet us at the next industry event.
Vivante VIP9000Pico

VeriSilicon's Vivante VIP9000Pico processor family offers low power, smaller die area, programmable, scalable and extendable solutions for markets that demand low power wearable and IoT devices.

Vivante VIP9000

VeriSilicon's Vivante VIP9000's scalable architecture, ranging from 0.5TOPS to 100TOPS, enables AI capability for a wide range of applications including wearable, IoT devices, IP Cam, surveillance cameras, smart home & appliances, mobile phones, laptops, automotive (ADAS, autonomous driving) and edge servers.

Vivante VIP9400

VeriSilicon's Vivante VIP9400's scalable architecture provides up to more than 300 TOPS computing ability, enables AI for data center and automotive application.