Home
Custom Silicon Service
Platform-based, all-around, one-stop custom silicon design service
VeriSilicon provides full-process silicon design service from chip definition to tape-out, and silicon-proven, platform-based solutions for shortening design cycles. In addition, VeriSilicon helps customers to outsource wafer fabrication, chip packaging and testing, while providing high-quality production management services.
Shorten design cycles, reduce design risks
VeriSilicon can create silicon products from definition to test and package in a short time based on its one-stop custom silicon service, and provides high performance and cost-efficient semiconductor alternative products for IDM, Fabless, system vendors (OEM/ODM) and large Internet companies, etc. Our services cover various application fields including consumer electronics, automotive electronics, computer and peripheral, industry, data processing and IoT sectors.
Under the SiPaaS business mode, by leveraging the Company's semiconductor IP resources and advanced R&D capabilities, VeriSilicon has accumulates a variety of silicon-proven design platforms that can significantly reduce the silicon design cycles and design risks with guaranteed quality and efficiency of our service.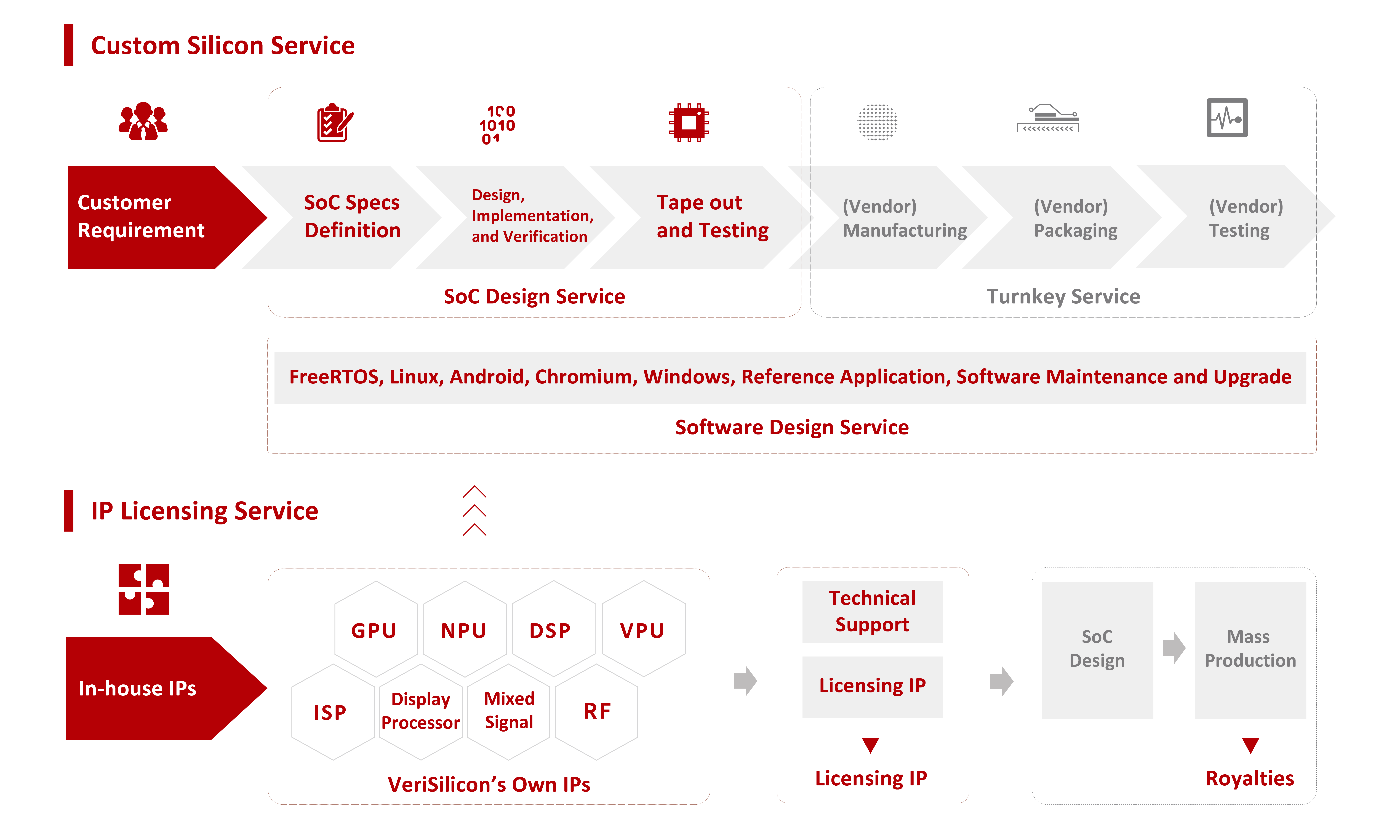 Mature industrial application solutions
Based on our technical advantages, design experience, customer needs and our understanding of the industry, VeriSilicon has accumulated many silicon-proven and systematic solutions for customers, including HD video solutions, HD audio and voice solutions, In-Vehicle Infotainment processer solutions, video surveillance solutions, IoT connectivity solutions, data center solutions, etc.


Please submit your design requirements to us. Let's create excellent semiconductor products together.
Design Service

VeriSilicon SoC/ASIC Design Service provides specification definition, in-house and 3rd party IP integration, verification, implementation and customization. VeriSilicon Design Service is foundry neutral, it cooperates with multiple foundries to provide a proper and effective solution to customers.

Turnkey Service

VeriSilicon provides full Turnkey service with flexible handover interface. VeriSIlicon TK Service includes managing of foundry manufacture, package assembly, wafer probing final test, products qualification and FA service. VeriSilicon TK service provides support of customer products' manufacture with high quality and rapid response.

Software Design Service

As an extension to the one-stop custom silicon services, VeriSilicon expands the service scope from hardware to software. By providing customers with software development platforms, application-oriented software solutions, software development kits, customized software, software maintenance and upgrades and other services, VeriSilicon significantly reduce customers R&D cycles and risks and help them respond to the market in a timely manner.